Blood Orange Mai Tai
36 Pack
We thought you'd never ask! We pride ourselves on using only the best ingredients for the best customers (you!) Our products are crafted with real fruit juice powders! In addition to what's listed below, our products are also low sugar, dairy free, fat free, soy free, and cholesterol free, so that you can enjoy conscious free!
Ingredients: Ingredients: Fructose, Citric Acid, Lime Juice Powder (Maltodextrin, Lime Juice Concentrate), Natural Flavor, Mango Powder, Vegetable Juice (For Color), Beta Carotene (For Color), Stevia Leaf Extract, Sodium Citrate
FAQs
Can I make a non-alcoholic Mai Tai?
Yes, you can! Just add a package of Craftmix's Blood Orange powder to some sparkling or filtered water, add some ice, and mix.
✕
What's in a Mai Tai?
The exact recipe for a Mai Tai can vary, but here is a basic recipe for this classic cocktail:

• 2 oz dark rum
• 1 oz orange curaçao
• 1 oz lime juice
• 1/2 oz orgeat syrup
• 1/2 oz simple syrup
• Mint sprig, lime wheel, or pineapple wedge for garnish (optional)

With Craftmix, you can just mix the rum with the powdered mix, add some ice, and garnish with pineapple or mint!
✕
What are some good meals that go with Mai Tais?
Mai Tais are a tropical and fruity cocktail that pairs well with a variety of dishes that feature bold and spicy flavors. Some meal ideas that could complement the flavors of a Mai Tais include:

• Grilled seafood dishes
• Tacos
• Spicy Asian cuisine
• BBQ chicken
✕
How many calories are in a Craftmix Blood Orange Mai Tai?
There are 25 calories in our Craftmix Blood Orange Mai Tai mixes with only 5 grams of added sugar.
✕
What is the proper garnish for a Mai Tai cocktail?
The proper garnish for a Mai Tai cocktail can vary depending on personal preference and the specific recipe used. However, we find that pineapple wedges, lime wheels, and mint sprigs are great!
✕
How do you make a Mai Tai cocktail at home?
You can either go out and shop for all of the ingredients listed above or just buy your dark rum of preference and mix it with our Blood Orange Mai Tai powder. Making it at home can really be that easy.
✕
What type of rum is best for making a Mai Tai cocktail?
The type of rum that is best for making a Mai Tai cocktail is dark or aged rum. The complex and rich flavors of a dark or aged rum can complement the sweet and fruity flavors of the other ingredients in the cocktail.

Traditionally, a Jamaican rum such as Appleton Estate or a Martinique rum such as Rhum Clément is used in a Mai Tai. These rums have a rich and distinctive flavor profile that can enhance the flavors of the other ingredients in the cocktail.
✕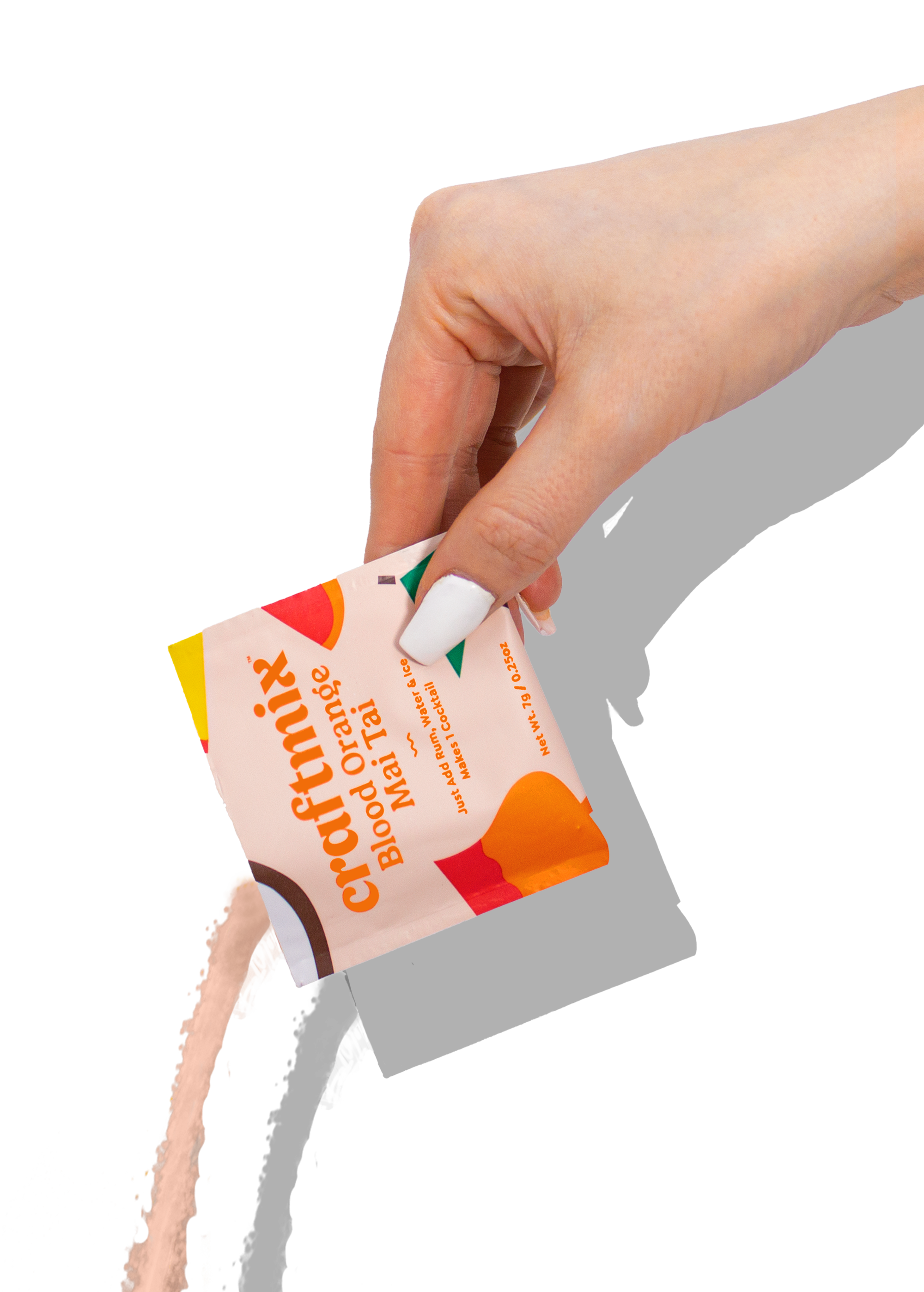 Cocktails made easy!
Nicola
These are so easy to make and taste delicious! I wasn't sure what to expect at first but I thoroughly enjoyed the cocktails and it made it so easy to have a delicious cocktail at home without all the fuss!
Definitely delicious!
Colette
Loved the packaging! The Strawberry Mule is amazing, think I've found my signature drink!
We love Craftmix-ing
Riley
Being a bartender for 3 years made me want to find a convenient and fast way to create the cocktails I love. Craftmix allows me to enjoys amazing drinks without worrying about prep time. I honestly plan on substituting these mixes for my handmade cocktails because they are damn good!
Fantastic Stuff!
Joe
I was really impressed with the quality of the product, especially with it being gluten free, vegan and low sugar. I can't wait to get some more!
Great even for nondrinkers
Bonny
Super tasty and convenient even for virgin cocktails for those of who don't drink but still want to enjoy a delicious Mocktail!
Great product, easy to mix!
Manibel
I was so stoked to finally get to try my hands on Craftmix after seeing it on social media! I love trying out new drinks especially during special occasions! These are easy to prepare and really taste like fresh mango margaritas! Love it! Great to share with friends and family!
The Best!!!
Tanya
These mixes are out of this world! Especially mango margarita which I've been indulging in daily since quarantine began. Highly recommend !!
Innovative, fun, and creative idea!
Clayton
Easy to use, but tasted even better. My girlfriend and I used these for our at home date nights!! Such a great idea and will be a repeat buyer. Highly recommend this to anyone stuck at home missing bar made cocktails!
Great Products!
Terris
I love these!! They taste great, are convenient, and don't add tons of sugar and empty calories to my drink. So glad I bought these!
I love this stuff!
Camille
I love making no fuss drinks! Especially because they taste delicious and I LOVE options. I never write reviews, but it was so freaking good that I just had to give this product some love.
So convenient
Lexie T
Really clean ingredients and great for travel if you don't want to buy a ton of ingredients to make a drink
Great way to switch it up!
Kim G
These aren't drinks I usually make for myself at home, so it was fun to have something different. They're quick, easy, and delicious!
Great for Mocktails
Kristin F
Craftmix is delicious! I am alcohol free, I mix them with alcohol alternatives and sparkling water for a tasty mocktail! All of the flavor options are tasty!
Fun Party Trick
Kenneth F
Well-designed product with an interesting concept! Bonus: fun party trick to whip out easy, on-the-go, pre-made cocktails
Definitely repurchasing!
Claire R
Super convenient and versatile! You can use any liquor you want and any type of water (still, sparkling, flavored) and get a tasty cocktail
LOVE
Lacey
Delicious, quick, and easy way to make a cocktail
It was delicious!
Edyta T
I had it with and without alcohol, and it was tasty both times. I enjoyed that it wasn't super heavy with the sugar and didn't get a headache after drinking this!
I would recommend!
Daphne
Convenient and interesting flavors! I also like how it can be used as a non-alcoholic option
Super portable!
Franquie
Craftmix allows me to show up at a function and only bring one to two items with their small packages
Refreshing & Delicious
Ash G
Love the packaging and convenience of this product!
Mint mojito is my favorite!
Toni C
I love the travel-friendliness of this product so fun and perfect for drinks on the go
My favorite!
Grace A
I love the idea of these and the variety of flavors. These are a great shortcut for mocktails as well as cocktails
So easy!
Luis V
Easy to use! Powder fully dissolves without much effort so you don't end up with any clumps.
Brianna F
I really enjoyed these!
Craftmix is full of flavor and easy to use! I am sober so I used non alcoholic vodka in mine. Perfect for out of town trips where I need to pack light!
Holy Cow!!
Zoe P
I ordered a 24-pack of the Blood Orange Mai Tai mix. I absolutely love the flavor. I made it for myself without alcohol while my girlfriends had it with rum and she said it was excellent! I love how easy it is to make.
Life Changing!
Nathanael W
It was amazing!
Fantastic Experience
Brooke B
My package came in no time and I am obsessed with the colorful packaging. Such a cool concept that I am recommending all to try! I got the variety pack, loved them all.
Great for non-alcoholic drinks
Kim
We add them to lemon la croix and they are fantastic!
Tasty and convenient
Jason C
I travel frequently and don't want to buy a bunch of mixers while I'm on the road, so these packets are perfect
Fun and Festive
Coco C
I bought this product to have festive cocktails for the holidays. I like that with little effort, I can have a fancy cocktail (or mocktail); no bartender experience required. All 4 flavors are tasty, but my fav was the Mai tai; it felt like a tropical escape in the middle of a long, cold winter.
Convenient
Christine L
Package came swiftly because I needed it for vacation- great value and great flavor!
Great Flavors
Dianne
The flavors were great. It was a unique gift!
Great option
Kimberly S
Perfect for my purse. It tastes great for a low calorie option
So delicious!!
Sabrina P
This is so good!! I have bought the Paloma and it's like I'm making a craft cocktail at home with my own alcohol. Saving a ton of money, the extra calories, and the flavor is just as good!
Great tasting drink mixes!
Caitlyn
I love it :) I have a gluten sensitivity so it is a must buy
My New Favorite!
Maryclaire D
I blended the mango margarita with tequila and ice and it tastes amazing. The margaritas that I usually order out have so much more sugar, and this one tastes even better. I'll definitely be ordering more.
Tastes Great!
Tina D
Gave them in a birthday gift bag and my friend raved about the flavor!
Loved It
Olivia H
I got a mojito pack from work and decided to get the variety pack to see if they were also good. IT WAS.
Yuuuuum!
Kim G
These aren't drinks I usually make for myself at home, so it was fun to have something different. They're quick, easy, and delicious.
Satisfied and Satisfying!
Valerie B
I love the product, the customer service, the ingredients, the company, and the overall ordering/delivery ease/timeline
Absolutely Delicious Drink!
Samantha V
Absolutely delicious, and amazingly simple!! I saw these drinks advertised multiple times, and was skeptical but the low calorie, sugar and carbs got me to try them out. I am SO glad I did! They are incredible! I am hooked!!
I Love Passion Fruit Paloma!
Alexandra C
This is a really great treat that tastes delicious but is low in sugar!
Delicious!!!
Gina G
Customer service is always great. My orders are very speedy and on time.
I'm Impressed
Kristina S
These cocktail mixers are wonderful. They pack amazing flavor and to a low calorie cocktail.These are light years better than other powdered cocktail mixes I have previously tried!
Amazing!
Kelly L
This is by far my favorite drink mix and no sugary hangovers!
Innovative, fun, and creative idea!
Clayton G
Easy to use, but tasted even better. My girlfriend and I used these for our at home date nights!!
Powder from the Gods
Falcon J
This product is one of a kind! Great price and even better flavor
Mojitos here I come!
Guy M
If you have never had a perfect drink, this is it. Each portion assures you a perfect drink every time. This Mojitos is perfect!
Surprising
Chris
I never thought powder could beat the real thing.....but it does. Especially when your wife is happy because the calories are low!
Blown Away! Exactly What I Needed
Taylor
I'm so happy I took a chance on this product! So convenient and portable, all of my friends loved them during game night