Blood Orange Mai Tai
36 Pack
Blood Orange Mai Tai
Just Add Rum, Sparkling Water & Ice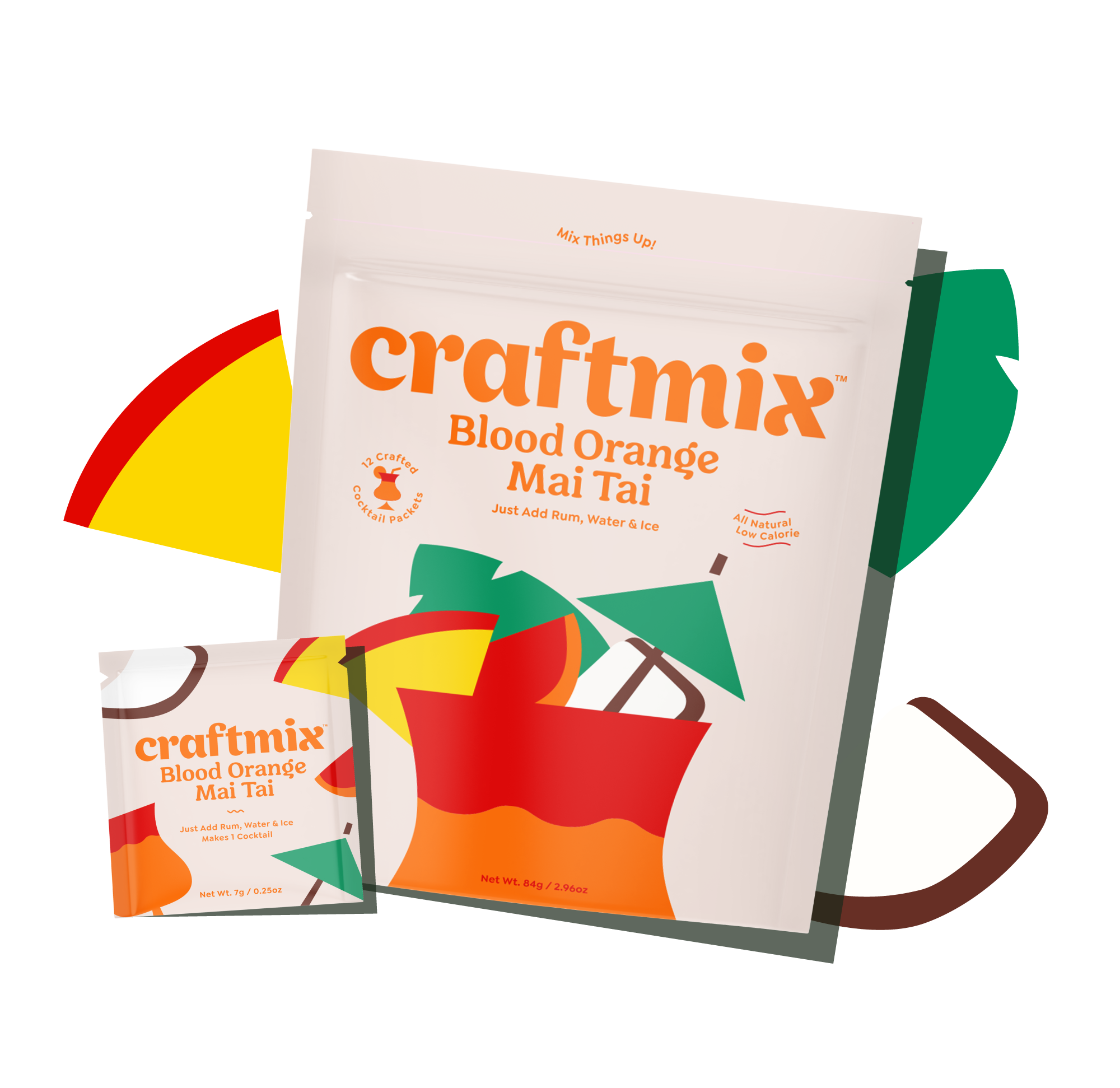 We thought you'd never ask! We pride ourselves on using only the best ingredients for the best customers (you!) Our products are crafted with real fruit juice powders! In addition to what's listed below, our products are also low sugar, dairy free, fat free, soy free, and cholesterol free, so that you can enjoy conscious free!
Ingredients: Ingredients: Fructose, Citric Acid, Lime Juice Powder (Maltodextrin, Lime Juice Concentrate), Natural Flavor, Mango Powder, Vegetable Juice (For Color), Beta Carotene (For Color), Stevia Leaf Extract, Sodium Citrate
FAQs
Why not use a liquid cocktail mix?
Who wants to show up to the party all sweaty? Definitely not Craftmix! Ditch those heavy glass bottles of neon-colored mystery liquid, grab some convenient Craftmix packets, and you're all good to go!
✕
Does Craftmix taste as good as liquid mixers?
One word—Better!
✕
Why does Craftmix have a small amount of sugar?
No one likes a chalky cocktail! Sugar helps our flavors dissolve better and also gives your cocktail a more balanced taste and texture! Don't worry, it's natural sugar and only about 1/8th of what the standard cocktail mix uses!
✕
Can I drink Craftmix without alcohol?
Absolutely! Craftmix is great for anyone who doesn't drink but still wants to enjoy a delicious mocktail and partake in party activities! Just sub out that one shot of booze for one extra shot of sparkling water!
✕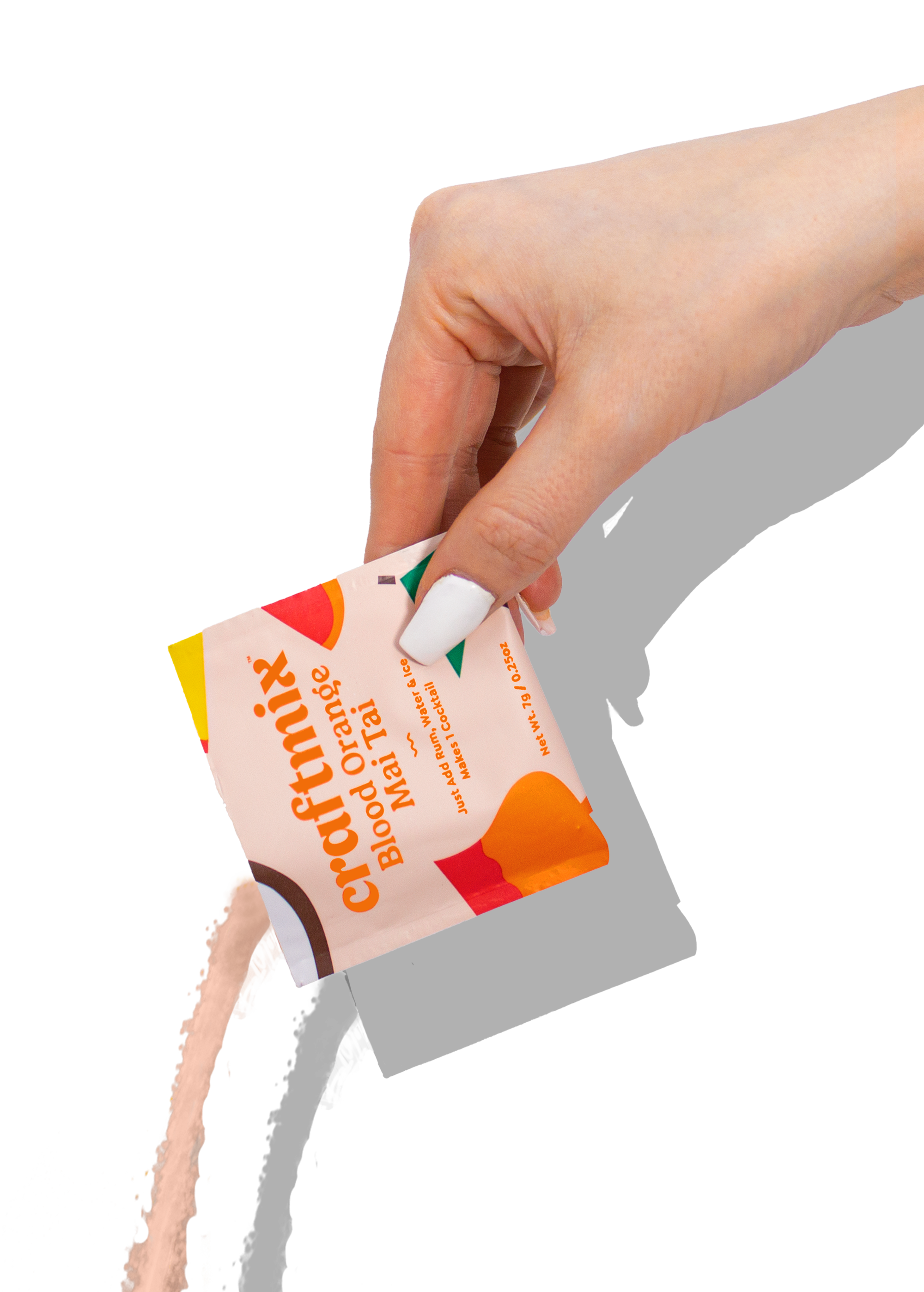 Cocktails made easy!
Nicola
These are so easy to make and taste delicious! I wasn't sure what to expect at first but I thoroughly enjoyed the cocktails and it made it so easy to have a delicious cocktail at home without all the fuss!
Definitely delicious!
Colette
Loved the packaging! The Strawberry Mule is amazing, think I've found my signature drink!
We love Craftmix-ing
Riley
Being a bartender for 3 years made me want to find a convenient and fast way to create the cocktails I love. Craftmix allows me to enjoys amazing drinks without worrying about prep time. I honestly plan on substituting these mixes for my handmade cocktails because they are damn good!
Fantastic Stuff!
Joe
I was really impressed with the quality of the product, especially with it being gluten free, vegan and low sugar. I can't wait to get some more!
Great even for nondrinkers
Bonny
Super tasty and convenient even for virgin cocktails for those of who don't drink but still want to enjoy a delicious Mocktail!
Great product, easy to mix!
Manibel
I was so stoked to finally get to try my hands on Craftmix after seeing it on social media! I love trying out new drinks especially during special occasions! These are easy to prepare and really taste like fresh mango margaritas! Love it! Great to share with friends and family!
The Best!!!
Tanya
These mixes are out of this world! Especially mango margarita which I've been indulging in daily since quarantine began. Highly recommend !!
Innovative, fun, and creative idea!
Clayton
Easy to use, but tasted even better. My girlfriend and I used these for our at home date nights!! Such a great idea and will be a repeat buyer. Highly recommend this to anyone stuck at home missing bar made cocktails!
Great Products!
Terris
I love these!! They taste great, are convenient, and don't add tons of sugar and empty calories to my drink. So glad I bought these!
I love this stuff!
Camille
I love making no fuss drinks! Especially because they taste delicious and I LOVE options. I never write reviews, but it was so freaking good that I just had to give this product some love.