Making the Most of Your Easter in Quarantine!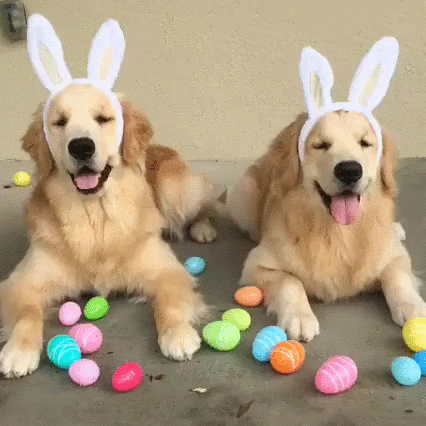 Does being in quarantine mean the Easter Bunny won't be coming this year? Nonsense! Turn your dog into the Easter Bunny! Or...maybe not. From the tasty Easter chocolates to video calling your family and friends, I'm sure we can all enjoy our Easter this year.
Whatever you decide to do, we want to make sure you're still able to do all the fun activities of Easter, just in the comfort of your own home!
Let's grab our baskets and start picking up some great ideas!
#1
Make a Crazy Easter Egg Hunt Inside Your Home!
One of the best moments growing up as a kid has to be the famous Easter Egg hunts. Here at Craftmix, we've developed our competitive side... And ain't nobody getting to those eggs before us! But in all seriousness, uphold this fun-filled traditional for the kids by placing them around the house!
But wait..don't think Easter Egg hunts are just for kids! Make it adult-themed by spicing it up with some 18+ objects in the eggs. Maybe some rolled up toilet paper? We'll avoid giving suggestions and leave it up to your own creativity. Whatever you choose, make sure to let your creativity flow and have fun!
#2
Take Advantage of Technology With Video Calls!
We're so lucky to live in this day and age. In just a few seconds, we can connect with virtually anyone around the world. If you haven't tried it yet, we highly recommend using one of the video softwares out there! They're free and simple to set up for virtually anyone. This way you can stay in contact with your family on Easter, and stay safe all at the same time. Some of our favorite programs you can use are:
-Skype
-FaceTime (IOS)
-Google Hangouts
-Zoom
All of these will work great for any occasion! 
#3
Attend an Online Easter Service!
If you and your family typically go to an Easter Sunday service, there are many options you can choose from! Lots of congregations are previewing their services online. If you don't know one off the top of your head, just simply look up "services online for Easter" and there are lots of options that come up!
If this sounds like it's right up your alley, get your family together, or whoever you're in quarantine with, and watch some Easter Sunday services! 
#4
Create Your Own Easter Tradition!
Why not add some creativity and spice to your Easter holiday by creating a new tradition! This can be carried on for years and years to come, and can be a good story to tell every year. We would help you with some ideas, but that will take the originality out of it! We want it to be YOUR tradition, not ours! Put on your thinking cap with your quarantine buddies, and think of some fun ways you can spend Easter! 
Anything can turn into an activity done every year!
But please, make it something besides cooking...that one's a given. 
#5
Get Artsy With Some Egg Painting!
There's no such thing as a true Easter without painting some eggs. Lucky for us, this tradition can stay alive because it can be done in the comfort of our own home. Wondering how you can paint your eggs? It's actually pretty simple.
1. If you're original and use real eggs, you first want to hard boil the eggs. This will prevent them from cracking while you dye/paint them!
2. Step two is to get some dye, or paint, and pick your color or colors of choice.
3. Start Painting! You can cover them with glitter or make cute patterns, just make sure to use your creativity!
4. Let them dry for about 15-30 minutes. If they still look wet, wait a little longer. We don't want to be responsible for getting paint all over your home!
#6
Do Activities That Help You Lose Track of Time!
There's nothing more peaceful than a relaxing day, spending time with family, (via video, of course) eating some chocolate, and taking a moment to yourself. In all this craziness we are going through, it is essential to take a moment and take a deep breath. So many of us are caught up in the news and social media, that we just need a day to unplug. I encourage you to turn off those devices for a few hours, enjoy the scenery, and simply...relax. You deserve it. 
We also heard a Craftmix cocktail goes well with all this relaxing...
Maybe you should try it out and see if what they say is true. Do it for us! You can find our tasty selection here: 
https://craftmix.co/collections/all-products
Got your Craftmix packets ordered? Great, now go through this list one more time and think of some ways you'll make your Easter Sunday meaningful from home. Did you end up making your own tradition? Make sure to tag @craftmixcocktails and tell us how your experience went!
Have Fun & Stay Home!!
Photo Credits:  
Annie Spratt