March 17, 2020
ActivitiesInside
Best Ways To Take Advantage of 'Social Distancing'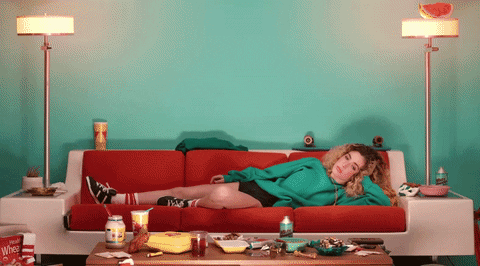 By now, I'm sure all of you have heard― and possibly exhausted― of the buzz about the Coronavirus. For most of us, our lives have been flipped upside down. Here at Craftmix, we want to give you some of the best ways to take advantage of this time, but more importantly, being able to have fun while being safe. From reflecting on your life to finding new activities, we hope this list gives you some inspiration to pass time positively. Enough blabbering.
Let's dive right in, shall we?
#1
Become a Meditation Master!
While this may sound silly, meditation is an extremely helpful practice to reconnect, re-evaluate, and recoup yourself. It is used by some of the most successful people today. In our busy, day-to-day lives, sometimes all we need is a moment to sit and relax. Meditation can be whatever you make of it, whether it is a few minutes of silence or a chunk of time dedicated to whatever you set your mind to. With more and more people working from home, it can be an easy activity to start incorporating into your life.
For more information: www.gaiam.com/blogs/discover/meditation-101-techniques-benefits-and-a-beginner-s-how-to
Cross Out Some of Your To-Do's!
Ah, the dreaded to-do list. Maybe it is time to start dusting off that list you made years ago, and get some stuff done! Is it cleaning up that garage? Patching up some kinks on the wall? Cleaning up the backyard? Whatever it is, try to find that one task that you 'just did not have the time for,' and GET. IT. DONE! Whenever you can cross something off that to-do list, you will feel accomplished to move onto something else! It's all about getting that ball rolling. Soon, you will be unstoppable.
#3
Create New and Exciting Goals!
Remember that one thing you did at the beginning of this year? Hmm....what is it...OH! A New Year's Resolution! Right! We totally forgot about those.
Maybe it is time to evaluate some of those goals you made just a few months ago. Are you staying on track? Maybe you've completed them and can make a new goal? Whatever it is, ensure you are staying up to date on those goals! They are an excellent way to ensure you are keeping up with what you set your mind to. 
But wait...maybe your goal is just too hard to reach. What should you do?
Consider making smaller goals that lead up to that big goal. If you need to, revise it a little bit, because a bunch of small victories ends up turning into a very important and big win.
Some ideas of fun yet useful goals are:
1. Start Learning a New Language
2. Learn How to Cook
3. Find a New Skill or Hobby
#4
Play Some Games!
Game time baby! Let's be honest, none of us want to work, meditate, clean, and set goals all day long. This is why we bring in the fun. Let's jump right into a list of games you can play by yourself or with someone from the comfort of your own home.
1. Play Some Classic Board Games!
Monopoly? Yes, please. Are you the competitive type? Play a game of Battleship and sink your friends.
2. Download Some Exciting New Apps!
Some trending apps that we love are Words with Friends, Heads Up! and Trivia Crack 2. These are just a few examples, but go on your app store and find some you would enjoy!
3. Complete A Mind-Boggling Crossword or Word Search!
There are hundreds of apps you can download and do it right on your phone! This way we can save paper while still having fun.
Here's a link to a word search app: 
https://apps.apple.com/us/app/word-search-crossword-game/id1471967529
4. Get Creative and Make Up Your Own Game!
These are just a few ideas of games you can play, but we will leave it up to your creativity. Let your inner child-self come through, and have some fun!
#5
Exercise Baby!
1, 2, 3, 4, and HOLD! Come on ladies and gentlemen! Work it!! If you are hearing this, that means you're getting that work out in baby! Let's say you don't have any exercise equipment at your house. No problem! There are hundreds of videos on YouTube that give you endless exercises to do with the common items found around in households. Also there's tons of free "7-minute workout" apps to download that require no equipment at all! Staying healthy physically will help prevent you from getting sick, and help clear your mind of cabin fever! Besides, you will feel better and can now reward yourself with this next tip!
#6
Sit Back, Relax, and Watch a Movie!
Nothing sounds more cozy and relaxing than watching a movie under a warm blanket. Whether you're with friends or family, or just by yourself, watching a movie or turning on your favorite TV show is a great way to pass time and enjoy at any time of day. Choose Netflix, Hulu or simply cable, all are great options! If you want to get fancy, read the next tip to spice up your movie watching even more!
#7
Try Some New Drinks!
After you've been exercising and setting new goals, find your inner bartender by trying out some new cocktails. It's all about creativity, and it's a great way to relax after a long day. BUT WAIT!! Shoot. You just realized you do not have all the ingredients to make a delicious mango margarita. What in the WORLD are you going to do?? You can't just go to the store...the lines are out the door. Well, you're in luck, because Craftmix has the perfect solution for you.
If you don't know by now, Craftmix is pretty simple. Water. Booze. Craftmix packet. What do you get from that? Your mango margarita cocktail you wanted so badly. Not only is Craftmix an easy way to make your favorite cocktails, but they are only 20 calories and taste freaking amazing. Don't believe us? Check out our reviews on Amazon, and let the customers speak for themselves.
Get Yours Here: https://craftmix.co/collections/all-products
Now that you've seen our list of some of the best things to do while at home, we encourage you to try as many of them as possible. Will you start meditating? Are you going to make it easy and convenient and make a delicious Craftmix cocktail? Whatever you choose, make sure to tag us @craftmixcocktails and tell us what you decided to try!
Have Fun & Stay Healthy!!
Pictures: 
Haley Powers
Alisa Anton
Glenn Carstens
Christopher Paul
Estee Jansenns
Jonathan Borba
http://bit.ly/33qEWc9