7 Tips To Surviving Your St. Patrick's Day Bender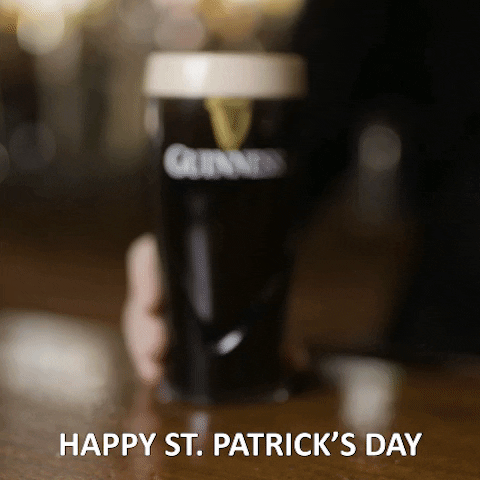 St. Patrick's Day is upon us! In just a few days, some of us will take part in the most booze-consumed day of the year. For hundreds of years, St. Patrick's Day has been a day filled with celebration around the world. So, as we prepare our livers for this day, Craftmix has compiled a list of 7 Tips to Survive Your St. Patrick's Day Bender! Sit back, grab a pen and paper, and let's dive right in!
#1
Don't Go Out on the Town the Night Before!
We recommend taking a chill night on Monday. I know not many people typically go out on Monday nights, but if you do, please make this one an exception. Do your liver a favor—stay in.  I promise you, if your St. Patrick's Day is like ours here at Craftmix, you'll make up for it tomorrow. Go to bed on the earlier side and get lots of sleep so you're ready to party hard on Tuesday.
#2
Wake Up Bright and Early!!
Waking up early enough to get your mind and body ready for this fun holiday is key. Since a nice Irish Coffee might be the first beverage of choice, it's important to shower, get ready, and start making a nice breakfast to compliment your morning booze of choice. What's for breakfast? Read number 3!
#3
Make A Big, Greasy Breakfast!
When we say big, we mean BEEG. Make a breakfast that's bigger than usual. Not only do you have to load up your stomach with carbs to avoid falling asleep by 3 PM, but it will help you throughout the day in holding all that alcohol. Keep in mind, the fuller you are, the less you'll be able to drink. For some of us that may be a bad thing, but your 7 PM self will be thanking you later.
One of our favorites is our homemade breakfast burritos. Cook up some scrambled eggs, hash browns, bacon, and any other meats of your choice. Feel free to get creative! The more protein the better. Oh, and do not forget the cheese. This burrito can also compliment a nice Irish Breakfast Shot!
See the recipe here: https://tipsybartender.com/recipe/irish-breakfast-shot/
#4
Keep Your Phone Charged Up!
Let's be honest, we can't live in a world without our phones anymore. But on this day, your phone is even more crucial. Calling an Uber or Lyft to the next bar? Need to reconnect with one of your friends? You'll need your phone on you and charged at all times throughout St. Patrick's Day, so make sure you stay on top of charging it!
#5
Don't Stay At One Bar Too Long!
The last thing you want to be doing is spending too much time at one bar. The fun of drinking all day is you have time to discover new bars! Adventure out to new places and try them out! You never know what you may find! Sometimes, hole-in-the-wall places end up offering the best experiences.
Once you've been at the same bar for about an hour or two, that's when you know that you've extended your stay. Move on and see what is next!
#6
Treat Your Friend With a Drink!
At some time during your all-day bender, you should pass on an act of kindness by buying one of your friends a drink. It is a good way of preventing YOURSELF from having another one, and you can both be grateful you're together and celebrating this booze-filled holiday.
#7
Balance Out All Those Sugary Drinks!
As you continue on into the evening, you may be getting sick of the same old green beers and sugary drinks. This is why we recommend trying out a Craftmix cocktail. It's got only 20 calories and low sugar! This is a fantastic way to balance out all the sugary and heavy calorie drinks you will be having throughout the day. Craftmix is a delicious, and healthier option!
Now that you've seen our list of the 7 tips while out on St. Patrick's day, we wish you a very fun-filled day! We also want to hear about it! Did you make a delicious breakfast burrito? Did you switch it up with a delicious Craftmix cocktail? Whatever you choose, make sure to tag us @craftmixcocktails and tell us what you decided to try!
Have Fun & Be Safe!!
From the Craftmix Team to you,
Happy St. Patrick's Day!
Pictures: 
Adreas Hasling
Drew Farwell
Jeshoots
Yan Ming
Evelyn
Julian Hochge